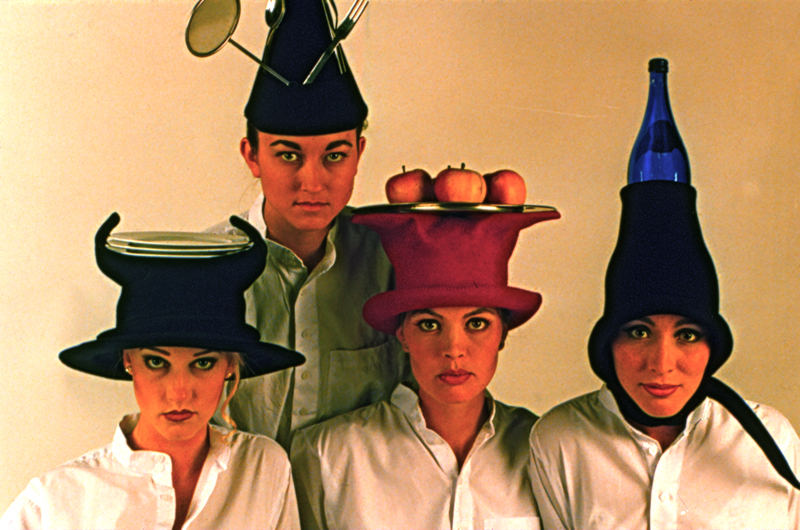 De picknick of de draagconstructie serie
1995
Serie hoeden, unika
 

gemaakt van haarvilt. De modellen zijn zo gevormd

 

dat er een soort constructies ontstaan. De hoeden zijn daardoor geschikt om iets op het hoofd te dragen.
Deze serie bestaat uit totaal 6 hoeden. Ze zijn gemaakt voor een show georganiseerd door Modamas in Amsterdam. Soms wordt
 

aan de functionaliteit van hoeden getwijfeld. Schoonheid, bescherming en het versterken van zelfverzekerdheid zijn genoeg redenen

 

om een hoed te dragen. In deze serie wordt de functionaliteit daar nog extra dik boven op gelegd. De hoeden zijn draagconstructies voor elementen van een picknick. Glazen, bestek, picknickkleed, fruitschaal en borden kunnen met deze hoeden op het hoofd worden gedragen.
Series unique hats made out of hair felt. The material has been modelled to a construction which makes it possible to carry something on the head.
The series consists of 6 models made for "Modamas" show in Amsterdam. Sometimes the functionality is doubted. Beauty, protection and increasing self-assurance are enough reasons for wearing a hat. This series emphasises functionality. These hats form the foundations for carrying picknick items. Glasses, cutlery, picknick blanket, fruitbowl, and plates can be carried with these hats.